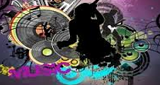 dhoom247 Only Bollywood Radio
Country:
United Arab Emirates
Dhoom 247 is a web based radio station, that provides its listners with 24x7 live streaming of music from all partsof UK, US India. It ... See more is a public service broadcaster, established on 8th February 2011. Its mission is to enrich people's lives with music that entertains. As such, we are in the entertainment business part of the media. Dhoom 247 specializes in the Bollywood Hits that focuses on personal achievement, growth, or success in some way.The programming department at Dhoom 247 are always on the look out for new music and keep bang up to date with what Dhoom 247 listeners are loving.